MEET THE WEBMASTER:
Dave Woodrum Jr., the webmaster for Bob's Marine Sales And Service, hails from a not too far away portion of Virginia. He can be reached at Woodrumworks@Yahoo.Com.
As Dave does most of his design work late at night, he's rather dependent on pop music to keep him awake. Dave would like to thank the following creative musical talents whose music helped launch this site off the ground:
Billy Idol, DEVO, Stevie Nicks, Robert Plant, Fleetwood Mac, & Recoil.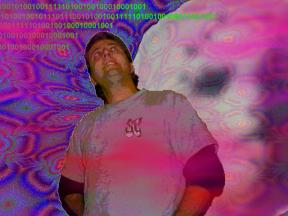 "Yes, That Is A Blown Up Image Of The Notorious Face On Mars Behind Dave... We Never Said That He Wasn't A Little On The Strange Side."